If you didn't know yet. This blog was started about two years after I injured my left wrist. Been unable to play the guitar since (my favorite time-spending activity)
Now I'd like to do some more posts on that subject (check out the On Injury pages too!)
I payed a brief visit to the Acoustic Guitar Forums. There I saw a post of someone asking advice. Someone who recently experienced wrist pains. I gave my advice based on my own experience. It was afterward that I started reading through the tread. Most surprised: great advice was given. Something that may not go down in a forums archive, never to be looked upon again. So I want to post those comments on my blog. Starting with the original post and my own comment. Here goes.
~My Respons~
Hey OP,
I didn't read the whole tread but I'd like you to know, I too had this issue. I just kept playing and playing even when my wrist started to hurt in rest (when I wouldn't touch the guitar the whole day, it hurt) I took action, way too late. I troubled on for over a year. My wrist has not gone better since, but I did learn a lot. I eventually went to see about 5 doctors in different areas of specialization. Anyway I still want to write down my experience but I haven't been able to finish it all. I've got a lot covered on my blog though. If you got the time, you can read it all here
http://www.mirrorguitarplay.com/p/injury.html
I'll give you a quick summary.
1) Fix your technique. Playing the guitar shouldn't hurt. If people say you just need to get used to it. That's wrong. When your wrist or forearm starts to hurt, you're not playing right.
What is proper technique? See the blog for excellent information.
You should keep your muscles as relaxed as possible, I read you were making an effort to do so, but It's all in the technique.
2) If it hurt, cool with ice. Your body's natural reaction is to isolate the lets say 'over-used' parts. This can show itself in either, swellings (fluids around the tendons) or 'insulating' parts of the muscle with soft tissue (scar tissue). Well if this starts to happen, you are far from home. If your icing your body won't get a chance to isolate and you will have time to fix your guitar playing behavior before it's too late.
3) When you are not experiencing any pain (anymore) do your best to stretch your forearm muscles and make them more flexible. This will help a lot to get stress off your muscles when you put tension on them (play the guitar).
I'd say check out the blog and ask your question, maybe shoot a bit of video of your playing technique as a reference. I'm Dutch so I might not be using all the proper terms but I think it's good enough to follow.
Good luck make sure you fix it before it gets worse.
Btw. Some people never have to worry about this, it's just in your genes. Some can play the guitar like a Master without worrying over their technique, but if you, like me, got 'weaker' wrists for whatever reason, you need to become very aware of your technique.
------
Me again, I took the time to read to whole tread. Great advice was given. I wish I asked these people when I was searching for answers. Guess everything has been said. Even the part of you taking a vid. Unbelievable. :)
I'm just gonna add some picture I took myself. And I want to ask you guys if you agree with me.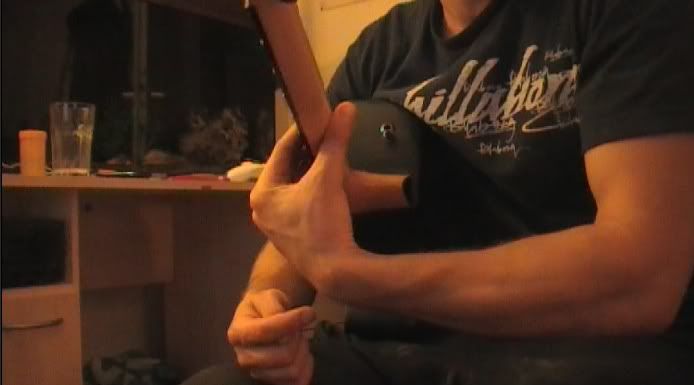 Bad wrist position, lot's of stress on the forearm muscles.
This is better, relaxed on forearm. Still have to put pressure on the strings. Since I already developed an injury, even this position will make my wrist hurt, and it's been two years since I stopped playing the guitar on an intense level.
I now try to use my thumb for the bass strings. This way I'm using whole different muscles. It's just as if I'm grabbing a hold of the guitar. It's fun because a lot of chords are possible and sometimes you even got a spare finger for more possibilities. This is something I' want to get into. Since it might be just the right solution for me.